HIGHERED talent network
#GetHighered
Highered is the official online career service for the top accredited EFMD business and management schools globally. Highered connects companies and students at an unprecedented level.
Highered – connecting companies with top talents – wherever you are in the world.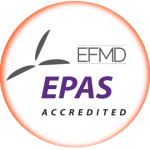 About Highered
What is Highered?
Highered is a very special on-line platform that connects  students and alumni with global opportunities. Every student or graduate of FIR has access to the online platform and can browse the career opportunities.

Why do we have access?
Membership in the prestigious EFMD organization and EPAS accreditation brings Faculty of International Relations another advantage, this time directly linked to students. FIR became the first faculty nationwide to be included in Highered.
What does it offer?
Students and Alumni can login to this personal platform to find internship, trainee positions, and graduate positions that are relevant to them from companies around the world.
Students and alumni can also complete a complimentary online assessment focused on work-related behavior, numerical reasoning, verbal reasoning, and motivation. The tests are delivered by cut-e, the world leader in online assessment and are for free.
Registration
Registration to the platform is very ease. By clicking on this link you visit the specific faculty login page. Then you input your university e-mail (part before @vse.cz) and verify a link that you will receive on your university account.
World of unique opportunities
Would you like to work in the companies like L´Oréal, Daimler, Siemens, Cisco, Bayer, SwissRe nebo Google? Are you interested in positions all around the world?
Register to the global career platform Highered and find an internship or a full-time position of your dreams.