Vice-Dean Daniel Houska spoke at the International Final of the Economic Olympiad
FIR was a partner of the 6th edition of the Economics Olympiad, an international competition in economics and finance, which is intended for secondary school students and which significantly contributes to the development of students' key skills and knowledge in this field.
This year, over 21,000 students from 417 secondary schools across the Czech Republic participated in the Czech edition of the Economics Olympiad. The grand national final took place on 21 June 2022 at the Czech National Bank Congress Centre in Prague and was attended by the top 45 students who advanced from the regional rounds. The International Final was held on 6. – 9 September at the Hungarian National Bank building in Budapest with the participation of the top five students from eight countries (see interview with the Vice Dean below).
The final, which traditionally lasts 2-4 days, consists of several tasks: in a written test, the contestants had to analyse the profitability of investments, the fallout of the oil import ban or the imposition of a price ceiling. This was followed by an oral part of the competition, but only the contestants with the best results in the written part advanced to the oral part.
On behalf of the Faculty of International Relations, the Vice Dean, Mgr. Ing. Daniel Houska. Ph.D., spoke during the Finals.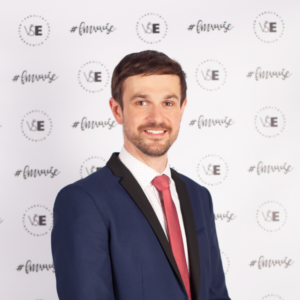 How was the final night for you?
"The whole final took place in the beautiful premises of the newly opened Central Bank of Hungary building and included 34 best students from 7 countries. Thanks to the professional organisation, everything went smoothly and in a friendly atmosphere – the contestants were the best from the national rounds, so they already knew a bit about what to expect from themselves and the judges. I really appreciate the invitation of the organizers and the opportunity to represent our faculty at such an event."

– Daniel Houska, Vice Dean for Teaching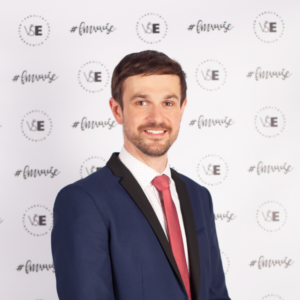 What were the students who made it to the finals? Did you meet the Czech representatives? 
"Two of the Czech students made it to the last stage (the oral round) and one achieved a final excellent 4th place, just below the podium. It should be stressed that this is the 4th place out of more than 36,000 students who participated in the national rounds. I am very pleased that one of the finalists has chosen the VŠE for his studies and we will soon have the opportunity to meet him on campus."

– Daniel Houska, Vice Dean for Teaching

Previous Next