One year in Finland and two degrees at the same time? This is exactly what FIR double degree is about!
One year in Finland and two degrees at the same time? This is exactly what FIR double degree is about!
Would you like to take two degrees instead of one? Thanks to cooperation with prestigious Finnish University of Vaasa, Faculty of International Relations can offer its students such an opportunity. The double degree program is designated for master's degree students of International Business program.
How do studies there look like? Get inspired by the narrative of the two students who are currently staying in Finland.
More information about the double degree program can be found here.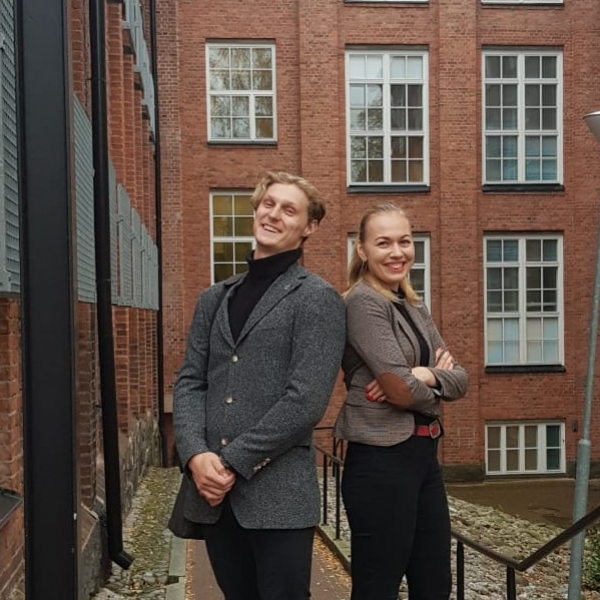 Petra Macháčová & Martin Honko
Hyvää päivää! Greetings from Finland, the country where we are currently studying in our second semester as double-degree students at University of Vaasa. This is an enormously amazing opportunity to get international education, experience a different style of studying, acquire useful contacts from all over the world, and make yourself differ from others at labour-market.
Vaasa itself is a nice medium-size town on the western coast and, according to Fins, the sunniest place in the entire Finland. The whole region is believed to be an innovative energetic cluster, so it abounds with interesting lectures and activities that are usually open for students. Vaasa is also an attractive destination for students as 4 universities with their beautiful campuses next to the seaside are based here. So, between preparations for classes and hard work on a thesis, we can enjoy picturesque sceneries from the glassy library or watch cars trying to shorten their way by crossing over the frozen see.
University of Vaasa has a slightly different system of lectures and assessment as against the one we got used to at VSE, but after a couple of weeks it feels pretty natural and normal.
Besides studying, we had a chance to travel beyond the Polar circle and visit Lapland with Santa Clause's village. Also, we took an opportunity and got engaged to the world-renowned start-up conference Slush in Helsinki where we, while being volunteers, were collecting contacts and experience. And watching breathtaking norther lights.. no need to tell more, you must see it with your own eyes. Overall we are satisfied with staying in Finland and, of course, we would recommend the double degree program in Vaasa!